---
Salesforce.com, Part 2: Leads and Dashboards
---
---
Watch trailer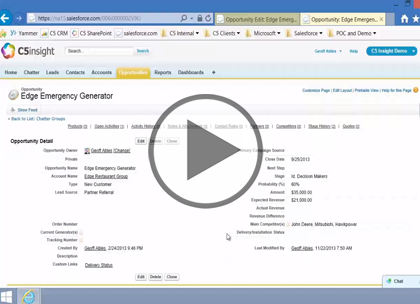 ---
Course at a glance
Included in these subscriptions:
Creative Design Power Pack
Power Pack Plus
---
| | | |
| --- | --- | --- |
| | Release date | 3/3/2015 |
| | Level | Beginner |
| | Runtime | 1h 27m |
| | Published eBooks | Included |
| | Hands-on labs | N/A |
| | Sample files | N/A |
| | Exams | N/A |
---
---
Enterprise Solutions
Need reporting, custom learning tracks, or SCORM? Learn More
---
---
Course description
Salesforce.com is a customer relationship management (CRM) tool that allows you to manage contacts, and track sales activity including leads, sales, and customers. In this three part learning series, get to know Salesforce CRM concepts and user interface. Learn how to manage leads, work with contacts, and track sales opportunities. Make your sales data meaningful with existing or customized reports and Dashboards.
Prerequisites
This course assumes very little familiarity Salesforce.com. This course is part of 3 courses; Salesforce.com: Introduction; Salesforce.com: Leads and Dashboards; and Salesforce.com: Importing, Manage a Team. Please be sure to view the courses in order if you are new to the material.
Meet the expert

Our Creative Design courses are presented by experts from Wiley Publishing. Wiley is a global provider of knowledge and knowledge-enabled services that improve outcomes in areas of research, professional practice, and education. They are the publisher of award-winning journals, encyclopedias, books, and online products and services.
---
Course outline
---
---
Leads and Dashboards
Leads, Accounts and Contacts (20:58)
Introduction

(00:10)

Using Salesforce for Sales

(00:49)

Managing Leads

(02:39)

Using Views

(03:28)

Lead Qualification

(03:55)

Accounts and Contacts

(02:25)

Contact and Company Hierarchy

(00:59)

Managing Notes

(01:12)

Merging Records

(01:24)

Adding Contacts to an Account

(01:38)

Email and Other Activities

(02:04)

Summary

(00:10)
Working with Opportunities (30:24)
Introduction

(00:10)

Creating Opportunities

(04:41)

Opportunities Stages

(01:01)

Opportunity Dashboards

(01:40)

Adding Products and Quotes

(02:08)

Collaboration

(00:53)

Basic Collaboration Functions

(05:15)

Social Collaboration - Chatter

(02:24)

Team Selling Tools

(05:52)

Managing Your Day

(02:41)

Four Quadrant Time Management

(01:34)

The Virtuous Follow Up Cycle

(01:50)

Summary

(00:10)
Working with Reports (13:22)
Introduction

(00:10)

Reports and Dashboards

(04:56)

Different Types of Reports

(03:17)

Running Existing Reports

(04:48)

Summary

(00:10)
Reports and Dashboards (22:21)
Introduction

(00:10)

Customizing Existing Reports

(04:56)

Using the Report Builder

(04:07)

Group Reports by Stage

(00:50)

Adding a Chart

(03:45)

Creating Dashboards

(04:46)

Create a Dashboard Description

(01:02)

Add Dashboard to Home Page

(02:31)

Summary

(00:10)
---