---
About Us
LearnNowOnline is an award-winning technical learning company nationally recognized for providing in-depth real-world content to developers, IT professionals and computer users. For 20+ years, we've been providing proven learning and reference solutions to individuals and teams of all sizes.
---
---
Get up to speed quickly in popular technologies
---
---
---
Scalable for 1 to 100,000
Individual learners, small and mid-sized teams, global organizations...we've got you covered.

---
Our Story
LearnNowOnline is built on more than a decade of experience. We are continually evolving in order to create current, engaging content delivered in the formats our customers prefer. Here are some of the highlights from our journey: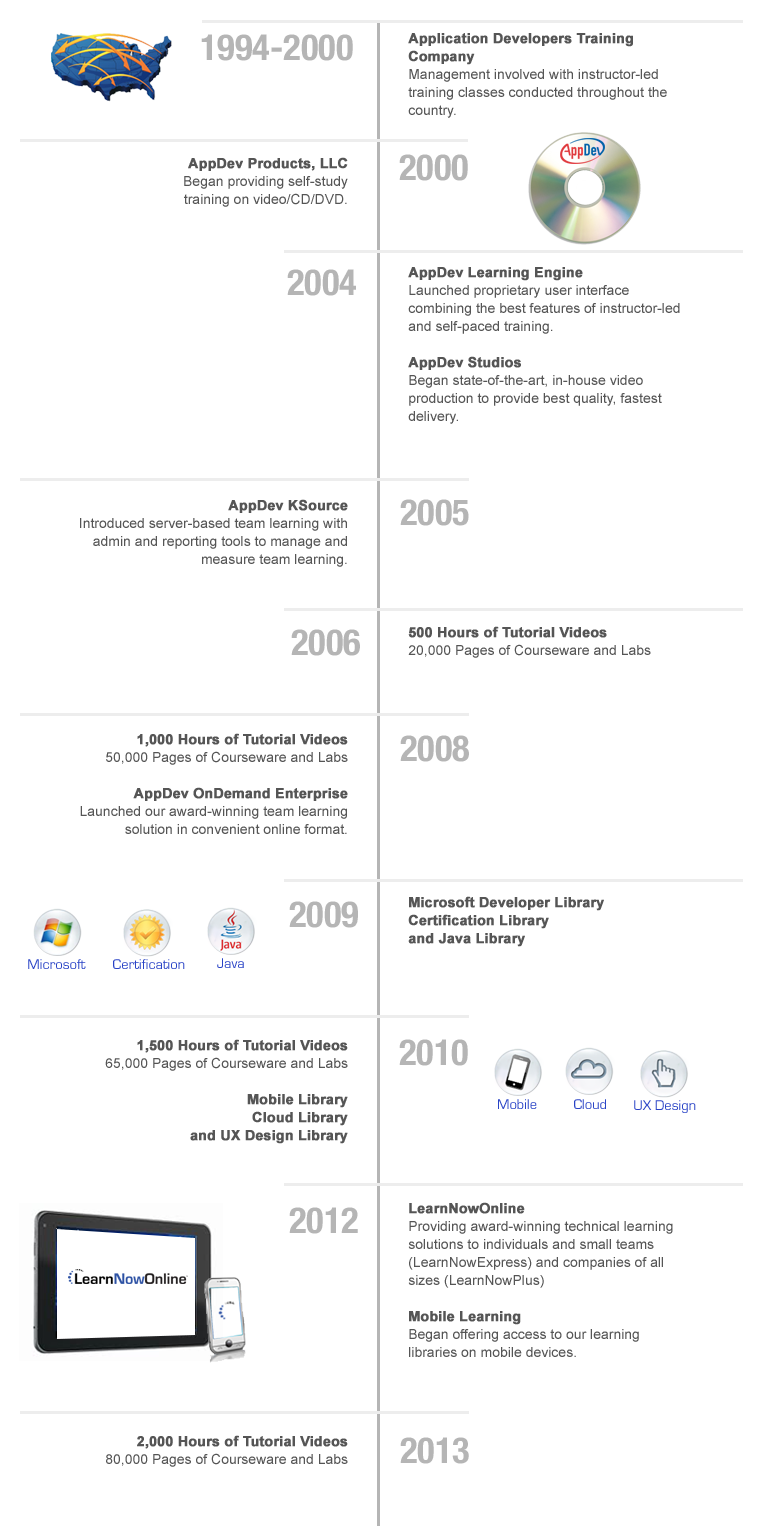 ---
Our Leadership Team
Craig Jensen
President & CEO

Before joining the company in 1994, Craig was CFO for PROEX Photo Systems in Minneapolis, Vice President and CFO of DataServ in Minneapolis, Vice President of Equitable Life Leasing Company in San Diego, and Audit Supervisor for Deloitte and Touche. He holds both Master of Science and Bachelor of Science degrees from the University of North Dakota.
Martin Schaeferle
Vice President, Technology

Marty joined the company in 1994 and started teaching IT professionals nationwide to develop applications using Visual Studio and Microsoft SQL Server. He has been a featured speaker at various conferences including Microsoft Tech-Ed, DevConnections and the Microsoft NCD Channel Summit. Since 2001, he has been responsible for product development and is the Vice President, Technology.
Peter Lambert
Vice President, Sales

Peter is an entrepreneur at heart with a skill set for building, growing and sustaining revenue for LearnNowOnline. As the newest member of the team, he brings 20 plus years of experience building and growing successful sales organizations in the SaaS model, and is an overachiever at all levels of his sales career. Peter is a life-long resident of Minnesota, and has a Bachelor of Arts and Business Administration degree from Concordia College.
Lori Kielsa
Director, Marketing & Business Analytics

A former AppDev team member, Lori rejoined the company in 2010. She has over 20 years of experience in business analytics and research in the retail, service, and SaaS industries. Her passion is using information, in all forms, to drive change, and she is a strong advocate for the customer. Lori holds a Bachelor of Science degree from the University of Wisconsin.
---