---
Apple Keynote, Part 4: Import, Presenting & Export
---
---
Watch trailer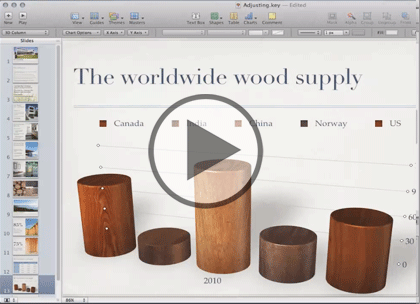 ---
Course at a glance
Included in these subscriptions:
Creative Design Power Pack
Power Pack Plus
---
| | | |
| --- | --- | --- |
| | Release date | 4/24/2015 |
| | Level | Beginner |
| | Runtime | 1h 23m |
| | Published eBooks | N/A |
| | Hands-on labs | N/A |
| | Sample files | N/A |
| | Exams | N/A |
---
---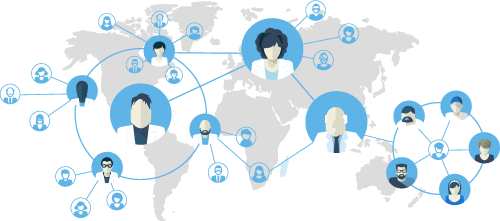 Enterprise Solutions
Need reporting, custom learning tracks, or SCORM? Learn More
---
---
Course description
Master Keynote for the Mac with this 4 part learning series, Keynote for the Mac is Apple's software solution for creating and delivering beautiful and compelling presentations. Explore the Keynote interface, choose a theme, or customize your own layout. Learn how to format text, add graphics and photos, and interactive elements like audio, video, and website links. Impress your audience with data charts, slide transitions, and animation effects.
Prerequisites
This course assumes very little familiarity with Keynote. This course is part of a 4 part learning series. The courses should be taken in the following order; Apple Keynote: Text and Photos; Apple Keynote: A/V, Charts and Animated; Apple Keynote: Transitions and Themes; and Apple Keynote: Import, Presenting, and Export.
Meet the expert

Our Creative Design courses are presented by experts from Wiley Publishing. Wiley is a global provider of knowledge and knowledge-enabled services that improve outcomes in areas of research, professional practice, and education. They are the publisher of award-winning journals, encyclopedias, books, and online products and services.
---
Course outline
---
---
Import, Presenting, and Export
Import & Edit from PowerPoint (27:55)
Introduction

(00:10)

Importing PowerPoint

(03:24)

Import Anomalies

(01:53)

Animate an Imported Slide

(03:08)

Adjusting the Timing

(02:34)

Enhance an Imported Chart

(04:32)

Adjusting the Scales & Graphic

(04:10)

Adding Content from Word

(04:29)

Save a Presentation for Export

(03:21)

Summary

(00:10)
Presenting Preparations (25:47)
Introduction

(00:10)

Using Light Table View

(03:45)

Adding Presenter's Comments

(03:16)

Working with Presenter Notes

(04:49)

Presenting with a Portable PC

(05:01)

Using an iOS Remote Device

(02:03)

Make a Self-running Slide Show

(03:41)

Set Up for Running in a Kiosk

(02:49)

Summary

(00:10)
Handouts & Exporting (29:36)
Introduction

(00:10)

Preparing Handouts

(03:44)

Exporting in PDF Format

(03:34)

Exporting in QuickTime Format

(04:50)

Exporting in HTML Format

(02:45)

Saving Slides as Images Files

(03:30)

Publishing to YouTube

(03:25)

Setting the Playback Duration

(02:07)

Export to Video Editing Tools

(02:23)

Sizing Elements & Settings

(02:55)

Summary

(00:10)
---