---
Office 365, Part 1: What is Office 365
---
---
Watch trailer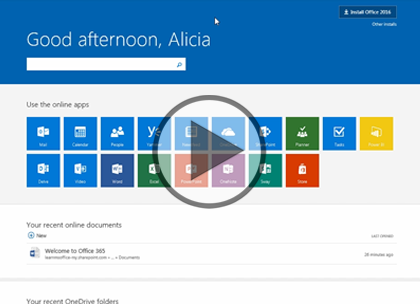 ---
Course at a glance
Included in these subscriptions:
Creative Design Power Pack
Power Pack Plus
---
| | | |
| --- | --- | --- |
| | Release date | 3/2/2017 |
| | Level | Beginner |
| | Runtime | 2h 38m |
| | Published eBooks | N/A |
| | Hands-on labs | N/A |
| | Sample files | N/A |
| | Exams | Included |
---
---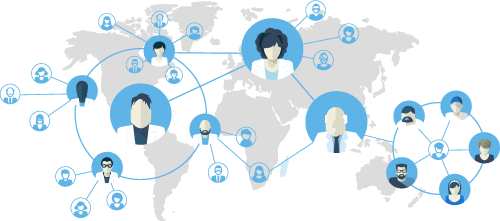 Enterprise Solutions
Need reporting, custom learning tracks, or SCORM? Learn More
---
---
Course description
Discover Microsoft's full productivity platform that leverages a multitude of programs and apps, Office 365. Dive into the portal in the cloud and explore what Office 365 is and what it provides to you as a user. Explore how the subscription model works, how to sign in, navigate and customize your own experience in the Office 365 portal, as well as how you can update and manage your own profile using Office 365's machine learning app, "Delve." Finally, find and leverage all the great products you already know, including Exchange, SharePoint, and Office, to be the most productive user you can be.
Prerequisites
This course assumes that students are familiar with the basic use of Windows and common use of the mouse and keyboard. No prior experience with Office 365 is assumed.
Meet the expert
Leeanne is a nationally renowned trainer, facilitator, and productivity expert. For the past decade, she has trained, facilitated, and conducted thousands of sessions, helping clients to achieve their maximum potential. While being most well-known for helping end-users, departments, and organizations learn how to maximize their software products such as Office 365 and Adobe, Leeanne also facilitates sessions to enhance productivity and performance through soft skills. Leeanne consults clients on team building, leadership, succession planning, and more and utilizes a science-driven battery of assessments to help identify the uniqueness, skills, competencies, behavior, and drivers for each person. Leeanne's background includes Human Resources, Operations, and Talent and Development.
---
Course outline
---
---
Introduction to Office 365
Signing On (22:57)
Introduction

(00:22)

What is Office 365 Cloud

(03:41)

Who Uses Office 365

(00:12)

Business Types

(01:31)

Subscription Model

(01:43)

How to Sign In to Office 365

(02:13)

What is Required to Log In

(01:46)

What Office Versions Work

(02:04)

Let's Now Explore

(00:16)

Demo: Log In to the Portal

(05:02)

Demo: Log In to Office

(03:39)

Summary

(00:21)
Platform (19:57)
Introduction

(00:20)

What IS Office 365

(01:33)

Integrated Platform

(01:06)

Office to One Drive

(05:03)

SharePoint to Video Channels

(05:39)

Dynamics CRM to Azure

(05:04)

Summary

(00:56)

Summary

(00:13)
Identifying Products (31:04)
Introduction

(00:24)

Office 365 Product Details

(00:20)

Office Suite (2010, 2013, 2016)

(04:07)

Skype for Business

(05:36)

SharePoint Online

(03:09)

OneDrive for Business

(03:30)

Yammer

(03:46)

Exchange Online

(02:26)

Groups

(02:33)

Planner

(00:56)

Delve

(03:17)

Let's Take a Closer Look

(00:34)

Summary

(00:18)
Identifying Products Demo (28:06)
Introduction

(00:24)

Demo: Office 365 Start Page

(00:49)

Demo: Excel Online

(05:23)

Demo: Office Features

(02:09)

Demo: Outlook, SharePoint, and Yammer

(04:23)

Demo: Groups

(04:43)

Demo: The Planner and Tasks

(04:57)

Demo: Video Channel, Delve, and More

(04:55)

Summary

(00:18)
Navigation and Customization
Navigating Office 365 (14:12)
Introduction

(00:24)

Navigating Office 365

(02:28)

About Me

(01:53)

Breadcrumb and Quick Launch Navigation

(00:59)

Access Through Links

(00:44)

Open in a New Tab

(00:36)

Let's Now Explore

(00:09)

Demo: Quick Navigation

(03:10)

Demo: Settings

(03:24)

Summary

(00:21)
Customize Office 365 (19:24)
Introduction

(00:18)

Customize Office 365

(01:27)

Customize Office 365 Settings

(02:10)

Demo: The Quick Launch Menu

(03:42)

Demo: The Navigation Bar

(03:56)

Demo: The Settings

(03:38)

Demo: Your App Settings

(03:50)

Summary

(00:20)
Updating the Profile in Delve (22:28)
Introduction

(00:19)

Updating Your Profile in Delve

(03:08)

More About Me

(01:06)

Demo: About Me in Delve

(05:00)

Demo: Projects, Skills, and More

(05:02)

Demo: Other People

(05:08)

Demo: Delve Push

(02:15)

Summary

(00:27)
---