---
jQuery, Part 6: Data and Interactions
---
---
Watch trailer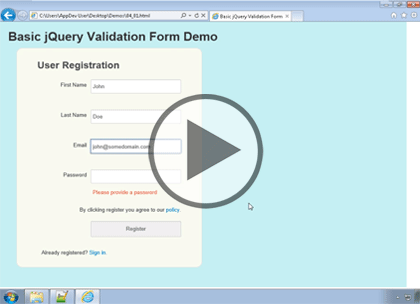 ---
Course at a glance
Included in these subscriptions:
Dev & IT Pro Video
Dev & IT Pro Power Pack
Power Pack Plus
---
Release date
10/29/2012
Level
Intermediate
Runtime
1h 56m
Platform

Major browsers on Windows

Major browsers on Mac OSX

Mobile Devices

Closed captioning
N/A
Transcript
N/A
eBooks / courseware
N/A
Hands-on labs
N/A
Sample code
Included
Exams
Included
---
---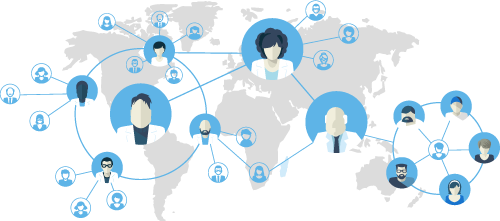 Enterprise Solutions
Need reporting, custom learning tracks, or SCORM? Learn More
---
---
Course description
jQuery is a great for information exchange. This course "jQuery: Data and Interactions", will start off with Ajax fundamentals, then move to submitting data with GET and POST. Next you will see how to work with JSON and paginating with Ajax data. Then the course will move on to advanced interactions with form validation, creating menus, drag and drop and finish up with creating custom jQuery plug-ins.
Prepare for certification
This course will help you prepare for:
70-480 Programming in HTML5 with JavaScript and CSS3

This course will help you earn:
MCSD: SharePoint Applications
MCSD: Web Applications

Meet the expert

Dustin Tauer is an Adobe Certified Master Instructor and has a degree in Informational Systems and Technology. He currently teaches development classes focusing on technologies like HTML, CSS, JavaScript, Flash and Flex. When he's not training, he's working on development projects ranging from mobile applications, to rich internet applications, to instructor-led curriculum.
---
Course outline
---
---
Data
jQuery AJAX (12:49)
Introduction

(00:33)

jQuery AJAX

(02:07)

Server-side scripts

(01:15)

Demo: Writing an AJAX method

(03:54)

Demo: Tracking network traffic

(02:01)

Demo: Handling returned data

(02:40)

Summary

(00:17)
Get and Post Data (26:18)
Introduction

(00:33)

Get and Post Data

(02:35)

Demo: Chained Select UI

(00:59)

Demo: Using .getJSON()

(02:56)

Demo: Coding chained select

(03:09)

Demo: Coding select options

(03:08)

Demo: Adding options into HTML

(03:52)

Demo: Refreshing selects

(01:40)

Demo: Resetting change event

(02:47)

Demo: Calling fetchSelect

(01:29)

Demo: Verifying requests

(00:32)

Demo: Regulating data

(02:13)

Summary

(00:21)
JSON (10:08)
Introduction

(00:34)

JSON

(02:48)

Demo: JSON

(02:50)

Demo: JSON and Chrome

(01:57)

Demo: Inspecting JSON code

(01:38)

Summary

(00:19)
Pagination (07:48)
Introduction

(00:34)

Pagination

(01:29)

Demo: Data list

(02:53)

Demo: Data list HTML

(01:06)

Demo: Pagination properties

(01:23)

Summary

(00:20)
Interactions
Form Validation (18:03)
Introduction

(00:40)

Form validation

(02:45)

Demo: Web form

(01:17)

Demo: Client-side validation

(03:19)

Demo: Third-party validation

(02:32)

Demo: Error messages

(02:46)

Demo: Email validation

(02:50)

Demo: Completed Form

(01:33)

Summary

(00:16)
Creating Menus (11:24)
Introduction

(00:37)

Creating Menus

(01:17)

jQuery Menu Events

(01:12)

Demo: Menu Creation

(01:00)

Demo: Animation API

(03:28)

Demo: Test Menu

(00:37)

Demo: Closing Menus

(01:34)

Demo: Stop Method

(01:20)

Summary

(00:16)
Drag and Drop (11:38)
Introduction

(00:31)

Drag and Drop

(01:47)

Drag and Drop options

(01:48)

Demo: Draggable

(03:22)

Demo: Droppable

(03:51)

Summary

(00:17)
Creating Plugins (18:41)
Introduction

(00:39)

Creating Plugins

(01:25)

Plugin Structure

(02:02)

Demo: Custom plugin

(02:03)

Demo: Naming plugins

(00:42)

Demo: Plugin defaults

(01:48)

Demo: Return loop

(03:04)

Demo: Importing plugins

(00:59)

Demo: Working with plugins

(01:02)

Demo: Overriding defaults

(01:21)

Demo: Animating plugins

(03:10)

Summary

(00:20)
---