---
Windows Azure 2012, Part 5: Azure Data Storage
---
---
Watch trailer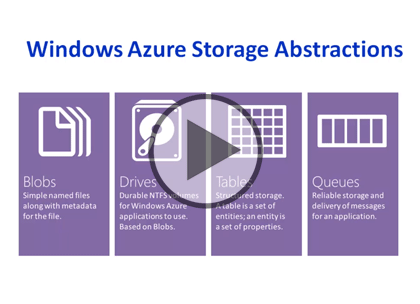 ---
Course at a glance
Included in these subscriptions:
Dev & IT Pro Video
Dev & IT Pro Power Pack
Power Pack Plus
---
Release date
2/11/2013
Level
Intermediate
Runtime
1h 0m
Platform

Major browsers on Windows

Major browsers on Mac OSX

Mobile Devices

Closed captioning
N/A
Transcript
N/A
eBooks / courseware
N/A
Hands-on labs
N/A
Sample code
N/A
Exams
Included
---
---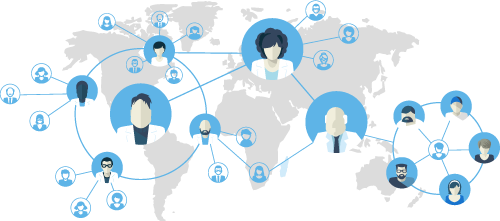 Enterprise Solutions
Need reporting, custom learning tracks, or SCORM? Learn More
---
---
Course description
Working with BLOB, Tables and Queues requires an understanding that some data makes sense for relational storage and some does not, this session dives into storage accounts, patterns for working with the storage API's.
Prerequisites
The viewer should be familiar with web interfaces, SQL, SQL Management Studio, and Visual Studio.
Prepare for certification
This course will help you prepare for:
70-487 Developing Windows Azure and Web Services

This course will help you earn:
MCSD: Web Applications

Meet the expert

Mike Benkovich delivers technical presentations around the U.S. as a consultant, trainer, and former Developer Evangelist for Microsoft. He has worked in a variety of professional roles including architect, project manager, developer, and technical writer. Mike is also an author of two books, published by WROX Press and APress, that show developers how to get the most from their SQL databases. Since appearing in the 1994 Microsoft DevCast, Mike has presented technical information at seminars, conferences, and corporate boardrooms across America.
---
Course outline
---
---
Azure Data Storage
Working with Azure Storage (10:18)
Introduction

(00:33)

Windows Azure

(00:47)

Windows Azure Storage

(01:22)

Azure Storage Abstractions

(01:13)

Windows Azure Storage Account

(01:19)

Tools to Explore Storage

(00:21)

Demo: Storage Accounts

(03:08)

Demo: My Azure Storage

(01:22)

Summary

(00:10)
Working with Blobs (13:37)
Introduction

(00:40)

Working with Blobs

(00:50)

Storage in Development Fabric

(00:44)

Blob Storage Example

(00:33)

Demo: Blob Storage

(02:56)

Demo: Azure Upload Utility

(03:42)

Demo: More Upload Utility

(03:54)

Summary

(00:15)
Working withTables & Queues (21:26)
Introduction

(00:45)

Creating Thumbnails

(00:47)

Table Storage Concepts

(00:30)

Entity Properties

(01:15)

No Fixed Schema

(00:34)

Querying

(00:11)

Partition Key

(01:27)

Partitions and Partition Ranges

(00:28)

Working with Queues

(00:23)

Message Lifecycle

(01:52)

Workflows with Queues

(00:28)

Queue Details

(00:48)

Queue's Reliable Delivery

(00:28)

Demo: Catalog Feature

(04:59)

Demo: Using a Queue

(05:57)

Summary

(00:26)
Creating a Worker Role (15:04)
Introduction

(00:39)

Creating Thumbnails

(00:28)

Worker Process

(00:29)

Demo: Creating a Worker Role

(09:54)

Demo: Publishing to the Cloud

(03:13)

Summary

(00:19)
---