---
Using Windows 8: Desktop and Tablet
---
---
Watch trailer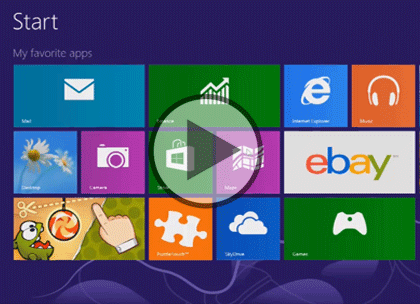 ---
Course at a glance
Included in these subscriptions:
Creative Design Power Pack
Power Pack Plus
---
Release date
4/29/2015
Level
Beginner
Runtime
1h 46m
Platform

Major browsers on Windows

Major browsers on Mac OSX

Mobile Devices

Published eBooks
Included
Hands-on labs
N/A
Sample files
N/A
Exams
N/A
---
---
Enterprise Solutions
Need reporting, custom learning tracks, or SCORM? Learn More
---
---
Course description
Now, you can learn the ins and outs of Windows 8 – from navigating the metro interface to troubleshooting common PC issues – with Using Windows 8: Desktop, Notebook, and Tablet. Find your way around Windows 8, get to know Windows 8s features, and customize the settings on your desktop, notebook, or tablet for your specific needs, get connected, go online with Internet Explorer, and add peripherals to your device. Handle routine maintenance, troubleshoot, and keep your PC happy Includes 2 hours of Windows 8 video training.
Prerequisites
This course assumes very little familiarity with Windows 8.
Meet the expert

Our Creative Design courses are presented by experts from Wiley Publishing. Wiley is a global provider of knowledge and knowledge-enabled services that improve outcomes in areas of research, professional practice, and education. They are the publisher of award-winning journals, encyclopedias, books, and online products and services.
---
Course outline
---
---
Navigating, Settings, & Apps
Overview, Setup, and Accounts (13:20)
Introduction

(00:10)

Windows 8 Overview

(05:27)

Setting Up Your Device

(01:37)

Changing Your Password

(03:27)

Using Different Accounts

(02:27)

Summary

(00:10)
Using and Navigating Your Apps (17:09)
Introduction

(00:10)

Finding Your Apps

(02:53)

Using the App Store

(04:50)

Using the Start Menu

(05:38)

Navigating Through Your Apps

(03:27)

Summary

(00:10)
Settings and Preferences (11:56)
Introduction

(00:10)

Power Down and Sleep

(01:29)

Changing the Clock Settings

(01:26)

Connect to the Internet

(01:42)

Change Preferences & Settings

(03:51)

Changing Your Language

(03:06)

Summary

(00:10)
Accessibility & Narration (08:26)
Introduction

(00:10)

Accessibility Settings

(04:04)

The Narrator Feature

(04:01)

Summary

(00:10)
Working With Your Apps (16:42)
Introduction

(00:10)

Navigate Windows 8 Apps

(04:40)

Sharing Your Apps

(05:04)

Searching Your System & Apps

(02:58)

Set Application Preferences

(03:38)

Summary

(00:10)
Email, Print, Music, & Photos
Working With Email (06:03)
Introduction

(00:10)

Using the Mail App

(02:04)

Send/Receive/Delete Emails

(03:38)

Summary

(00:10)
Print & Connect to Devices (11:20)
Introduction

(00:10)

Printing

(02:38)

Connecting a Second Monitor

(04:58)

Connecting to Other Devices

(03:23)

Summary

(00:10)
Music in Windows 8 (08:54)
Introduction

(00:10)

Adding Music

(01:24)

Playing Music

(02:17)

Searching for Music

(02:21)

Creating a Playlist

(02:31)

Summary

(00:10)
Working with Photos and Videos (12:11)
Introduction

(00:10)

Loading Images in Windows 8

(02:19)

Playing Videos

(01:19)

Uploading Photos to the Web

(01:55)

Using the Camera App

(02:50)

Sharing Your Photos

(02:23)

Troubleshooting Windows 8

(01:03)

Summary

(00:10)
---