---
Mac OS X Mavericks, Part 1: Introduction
---
---
Watch trailer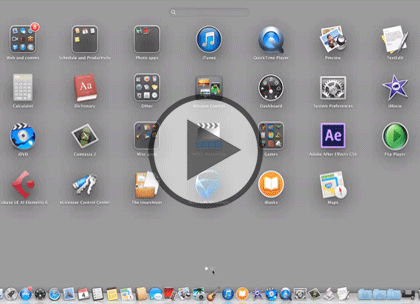 ---
Course at a glance
Included in these subscriptions:
---
| | | |
| --- | --- | --- |
| | Release date | 5/4/2015 |
| | Level | |
| | Runtime | 1h 7m |
| | Closed captioning | N/A |
| | Transcript | N/A |
| | eBooks / courseware | Included |
| | Hands-on labs | N/A |
| | Sample code | N/A |
| | Exams | N/A |
---
---
Enterprise Solutions
Need reporting, custom learning tracks, or SCORM? Learn More
---
---
Course description
Master Mac OS X Mavericks in this 6 part learning series, Mac OS X Mavericks is Apple's desktop operating system for Macintosh computers and is packed with features and capabilities. Explore OS X Mavericks' features and tour the OS X Mavericks' screen and setup preferences. Learn OS X Mavericks' basics like creating an account, running an application, maps, calendar, and working e-mail. Discover OS X Mavericks' creative capabilities to play and organize music with iTunes, import and edit photos, and create, edit, and share movies with iMovie. Then learn about adding printers, the Automator and Time Machine for backups, plus learn to install a version of Windows and then finally learn how to troubleshoot problems.
Prerequisites
This course assumes very little familiarity with Mac OS X Mavericks. This course is part of a 6 course learning series, Mac OS X Mavericks: Introduction; Mac OS X Mavericks: Preferences, Accounts & Applications; Mac OS X Mavericks: Utilities; Mac OS X Mavericks: Safari & Mail; Mac OS X Mavericks: Music & Images; and Mac OS X Mavericks: Printers, Automator & Windows. Please view the courses in the order listed if you are not familiar with the material.
Meet the expert

Our Creative Design courses are presented by experts from Wiley Publishing. Wiley is a global provider of knowledge and knowledge-enabled services that improve outcomes in areas of research, professional practice, and education. They are the publisher of award-winning journals, encyclopedias, books, and online products and services.
---
Course outline
---
---
Introduction
Introduction (23:49)
Introduction

(00:10)

New Features of Mavericks

(04:02)

More New Features

(02:46)

Upgrading to Mavericks

(01:22)

Finder

(04:17)

Finder Preferences

(04:22)

Finder Viewing Options

(06:38)

Summary

(00:10)
Searching (18:35)
Introduction

(00:10)

Quick Look

(02:48)

Spotlight

(04:10)

Searching in Finder

(02:07)

Mission Control

(05:45)

Multi Monitors

(01:08)

Launchpad

(02:15)

Summary

(00:10)
General Preferences (25:21)
Introduction

(00:10)

General Preferences Pane

(04:13)

Changing the Desktop

(04:17)

Customize the Finder

(05:45)

Icons & The Dock

(04:13)

Dashboard

(03:33)

Widgets Web Site

(02:57)

Summary

(00:10)
---