---
Designing a Presentation, Part 2: Enhancing PP
---
---
Watch trailer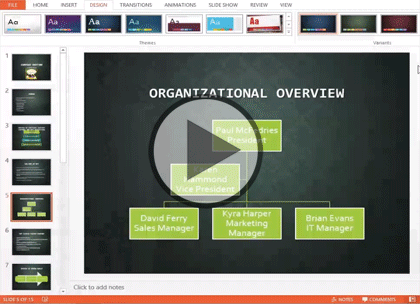 ---
Course at a glance
Included in these subscriptions:
Creative Design Power Pack
Power Pack Plus
---
Release date
4/16/2015
Level
Beginner
Runtime
1h 21m
Platform

Major browsers on Windows

Major browsers on Mac OSX

Mobile Devices

Published eBooks
N/A
Hands-on labs
N/A
Sample files
Included
Exams
N/A
---
---
Enterprise Solutions
Need reporting, custom learning tracks, or SCORM? Learn More
---
---
Course description
PowerPoint is Microsoft's leading presentation software and Keynote is Apple's presentation solution for the Mac, learn both in this 3 part learning series. Coverage includes working with master slides, inserting tables, photos, and graphics, enhancing PowerPoint and Keynote slides with audio and video, and adding transitions and animation to a presentation.
Prerequisites
This course assumes some familiarity with PowerPoint and Keynote. This course is part of a 3 part learning series. The courses should be taken in the following order; Designing a Presentation: PowerPoint; Designing a Presentation: Enhancing PowerPoint and Designing a Presentation: Keynote.
Meet the expert

Our Creative Design courses are presented by experts from Wiley Publishing. Wiley is a global provider of knowledge and knowledge-enabled services that improve outcomes in areas of research, professional practice, and education. They are the publisher of award-winning journals, encyclopedias, books, and online products and services.
---
Course outline
---
---
Enhancing PowerPoint
Photos, SmartArt, & Shapes (14:10)
Introduction

(00:10)

Inserting a Photo or Clip Art

(04:24)

Using SmartArt Graphics

(04:54)

Inserting a Shape

(04:32)

Summary

(00:10)
Adding Charts & Formatting (18:39)
Introduction

(00:10)

Adding a Chart

(04:43)

Choosing a Chart

(02:23)

Formatting a Picture

(03:27)

From Borders to Effects

(02:17)

Formatting a Shape

(03:11)

Fill, Outline, & Effects

(02:16)

Summary

(00:10)
Enhancing with Audio & Video (22:15)
Introduction

(00:10)

Inserting an Audio File

(03:56)

Inserting an Online Sound Clip

(02:25)

Recording Narration

(04:26)

Configuring Audio Playback

(04:23)

Inserting a Video File

(02:34)

Configuring Video Playback

(04:10)

Summary

(00:10)
Dynamic PowerPoint Slides (26:15)
Introduction

(00:10)

Inserting a Hyperlink

(04:59)

Adding an Action Button

(04:02)

Setting up a Slide Transition

(03:26)

Using Predefined Animations

(01:25)

Applying Preset Animations

(03:56)

Building a Custom Animation

(04:47)

Creating a Custom Slide Show

(03:18)

Summary

(00:10)
---