---
JavaScript for Designers, Part 1: Overview
---
---
Watch trailer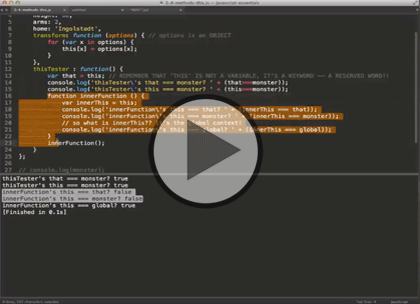 ---
Course at a glance
Included in these subscriptions:
Creative Design Power Pack
Power Pack Plus
---
Release date
4/16/2015
Level
Beginner
Runtime
1h 3m
Platform

Major browsers on Windows

Major browsers on Mac OSX

Mobile Devices

Published eBooks
N/A
Hands-on labs
N/A
Sample files
Included
Exams
N/A
---
---
Enterprise Solutions
Need reporting, custom learning tracks, or SCORM? Learn More
---
---
Course description
In this 6 part learning series you'll learn about JavaScript. JavaScript is a web scripting language that allows you to build dynamic web pages and add interactivity to your site. The course covers very basic JavaScript techniques and terminology all designed to give you a solid grounding in JavaScript's capabilities and concepts. It starts with the basic elements of the JavaScript language and builds up to working with JavaScript in the browser. You will learn how to alter site content, add behaviors like clicks and key presses, and commands for interacting with a web server.
Prerequisites
This course assumes very little familiarity with JavaScript. This course is part of a 6 part learning series. The courses should be taken in the following order; JavaScript for Designers: Overview & Language; JavaScript for Designers: Operators, Variables, & Arrays; JavaScript for Designers: Functions, Objects, & Methods; JavaScript for Designers: Scope, Hoist, Pitfalls, & HTML; JavaScript for Designers: DOM, jQuery, Functions, & OOP and JavaScript for Designers: Closures, Methods, & Libraries.
Meet the expert

Our Creative Design courses are presented by experts from Wiley Publishing. Wiley is a global provider of knowledge and knowledge-enabled services that improve outcomes in areas of research, professional practice, and education. They are the publisher of award-winning journals, encyclopedias, books, and online products and services.
---
Course outline
---
---
Overview & Language
Overview and Tools (24:43)
Introduction

(00:10)

JavaScript Overview

(03:54)

Tools Needed for JavaScript

(01:48)

Understanding Node

(03:24)

Importance of a Modern Browser

(03:39)

Read Eval Print Loop (REPL)

(03:04)

The JavaScript Console

(01:53)

Sublime Text

(04:28)

Syntax Highlighting

(02:09)

Summary

(00:10)
Basic JavaScript Language (20:21)
Introduction

(00:10)

The JavaScript Language

(01:55)

Functions and Variables

(05:00)

Console Log

(05:56)

Call the Print Method

(02:16)

Run the File

(04:52)

Summary

(00:10)
Nouns, Verbs, & Equality Tests (17:55)
Introduction

(00:10)

Nouns & Verbs of JavaScript

(04:54)

JavaScript Strings

(03:21)

Comparison Operators

(03:22)

Testing for Equality

(01:48)

Truthy and Falsy Values

(04:09)

Summary

(00:10)
---