---
UX Design Win 8 Apps, Part 1: Aesthetics and Design
---
---
Watch trailer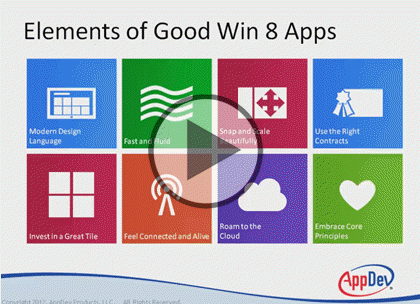 ---
Course at a glance
Included in these subscriptions:
Dev & IT Pro Video
Dev & IT Pro Power Pack
Power Pack Plus
---
Release date
10/5/2012
Level
Intermediate
Runtime
1h 56m
Platform

Major browsers on Windows

Major browsers on Mac OSX

Mobile Devices

Closed captioning
N/A
Transcript
N/A
eBooks / courseware
N/A
Hands-on labs
N/A
Sample code
Included
Exams
Included
---
---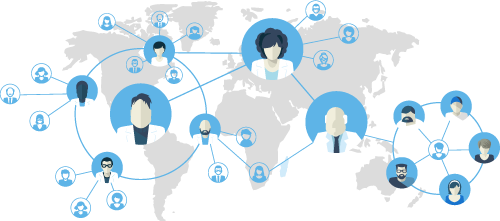 Enterprise Solutions
Need reporting, custom learning tracks, or SCORM? Learn More
---
---
Course description
Windows 8 changes the design pattern from previous versions of Windows in a grand way. This course will show the basics of Windows 8 aesthetics, how the look and feel of applications needs to be in order to look like they are part of the Windows 8 environment. The course will also show how to design applications for the touch interface. Then the course will show the design patterns for Windows 8.
Meet the expert
David Kelley is a Silverlight MVP with over 10 years of experience building Targeted Customer eXperiences. He is currently the Principal User eXperience Architect for [wire] stone specializing in touch experiences such as digital price tags and Silverlight-based kiosks for retail. David publishes a blog called Hacking Silverlight, and helps to run the Seattle Silverlight User Group and Interact Seattle, Seattle's Designer Developer Interaction Group.
---
Course outline
---
---
Windows 8 Aesthetics
Basic Windows 8 Aesthetics (36:01)
Introduction

(00:26)

Design Philosphy

(01:17)

Problems of Windows Aesthetic

(03:01)

Elements of Good Windows8 Apps

(01:39)

Design example: App Silhouette

(03:36)

Demo: App Silhouette

(01:09)

Design: Content before Chrome

(03:38)

Design: Leverage the Edge

(03:04)

Fast and Fluid

(04:07)

Fast and Fluid: Touch Language

(01:10)

Press and Hold/Swipe to Select

(00:23)

Demo: Press and Hold/Swipe

(01:46)

Tap, Slide, and Pinch Actions

(01:34)

Demo: Tap, Slide, and Pinch

(03:02)

Rotate and Swipe

(01:42)

Demo: Swiping

(04:10)

Summary

(00:10)
Windows 8 Aesthetics part two (22:02)
Introduction

(00:30)

Snap and Scale

(02:12)

Use the Right Contracts

(03:46)

Invest in a Great Tile

(02:12)

Feel Connected and Alive

(01:59)

Roam to the Cloud

(02:11)

Embrace Modern App Principles

(02:02)

Discoverability and Touch

(01:43)

Designing for Touch

(05:12)

Summary

(00:12)
Design and Patterns
Designing for Touch (28:59)
Introduction

(00:27)

Touch Targets

(01:49)

Touch Posture for Interaction

(01:08)

Touch Posture for Reading

(00:56)

Touch Postures for Holding

(01:09)

Branding Patterns

(02:36)

Demo: Expression Blend Intro

(01:39)

Demo: Expression Blend XAML

(03:04)

Demo: Expression Blend HTML

(02:16)

Solution types and Languages

(03:15)

Multiple Screens and Devices

(01:40)

Demo: Solution Types

(02:14)

Demo: Split App in XAML

(03:28)

Demo: HTML Framework

(03:00)

Summary

(00:10)
Patterns (29:47)
Introduction

(00:30)

Navigation Patterns

(00:52)

Hierarchical System

(00:54)

Demo: Hierarchical System

(01:33)

Flat System

(00:51)

Demo: Flat System

(01:18)

Navigation Anatomy

(02:49)

Demo: Navigation Anatomy

(01:36)

Navigation Anatomy (cont.)

(00:49)

Navigating with edge swipe

(00:24)

Navigating with the header

(01:11)

Demo: Navigation Pattern

(01:43)

Filters, Pivots, and Views

(02:57)

Demo: Filtering

(02:07)

Commanding Patterns

(02:36)

The AppBar

(01:15)

Command Placement

(02:22)

Using the Canvas

(01:03)

Using Charms

(01:03)

Context Menus

(01:29)

Summary

(00:16)
---