---
PowerPoint 2013, Part 4: Presentations
---
---
Watch trailer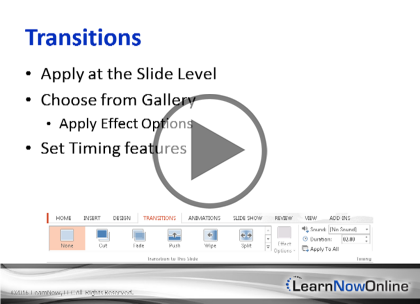 ---
Course at a glance
Included in these subscriptions:
Creative Design Power Pack
Power Pack Plus
---
| | | |
| --- | --- | --- |
| | Release date | 1/9/2017 |
| | Level | Beginner |
| | Runtime | 1h 45m |
| | Published eBooks | N/A |
| | Hands-on labs | N/A |
| | Sample files | Included |
| | Exams | Included |
---
---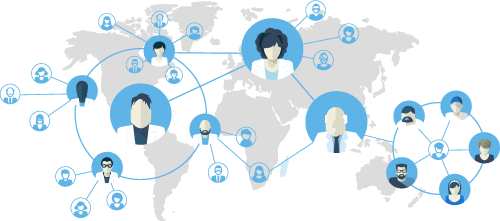 Enterprise Solutions
Need reporting, custom learning tracks, or SCORM? Learn More
---
---
Course description
In this course, productivity expert Leeanne McManus examines different ways to modify the look and feel of your presentation, as well as how to finalize and prepare your presentation. She will demonstrate the presenter-facing notes feature, selectively replacing words and other features that utilize the proofing tool, and how to best use transitions. Finally, Leeanne will discuss printing your presentation and converting it for use with other programs.
Prerequisites
This course assumes that students are familiar with the basic use of Windows and common use of the mouse and keyboard. No prior experience with PowerPoint is assumed.
Meet the expert
Leeanne is a nationally renowned trainer, facilitator, and productivity expert. For the past decade, she has trained, facilitated, and conducted thousands of sessions, helping clients to achieve their maximum potential. While being most well-known for helping end-users, departments, and organizations learn how to maximize their software products such as Office 365 and Adobe, Leeanne also facilitates sessions to enhance productivity and performance through soft skills. Leeanne consults clients on team building, leadership, succession planning, and more and utilizes a science-driven battery of assessments to help identify the uniqueness, skills, competencies, behavior, and drivers for each person. Leeanne's background includes Human Resources, Operations, and Talent and Development.
---
Course outline
---
---
Finishing Touches
Modfy Presentations (16:30)
Introduction

(00:20)

Changing Designs and Variants

(01:17)

Demo: Designs

(05:20)

Demo: Variants

(01:17)

Demo: Format Background

(07:44)

Summary

(00:30)
Presenter Notes and View (24:49)
Introduction

(00:27)

Presenter Notes

(03:50)

Presenter View

(08:05)

Demo: Presenter Notes

(04:50)

Demo: Presenter View

(03:59)

Demo: Presenter View Cont.

(02:54)

Summary

(00:40)
Proofing Tools (15:34)
Introduction

(00:22)

Proofing Tools

(02:27)

Comments

(02:19)

Demo: Proofing Tools

(05:39)

Demo: Comments

(04:16)

Summary

(00:30)
Find and Replace (07:50)
Introduction

(00:21)

The Editing Group

(01:33)

Demo: Find and Replace

(05:27)

Summary

(00:29)
Apply Transition (11:39)
Introduction

(00:22)

Transitions

(03:33)

Demo: Add Transitions

(04:10)

Demo: Preview Transitions

(02:51)

Summary

(00:41)
Running a Slide Show (10:28)
Introduction

(00:17)

Start Slide Show

(03:14)

Demo: Slide Show

(06:24)

Summary

(00:31)
Print Your Presentation (07:44)
Introduction

(00:27)

Printing Your Presentation

(02:34)

Demo: Printing

(04:15)

Summary

(00:26)
Create Handouts (11:09)
Introduction

(00:19)

Creating Handouts

(01:55)

Export Handouts

(01:37)

Demo: Create Handouts

(03:53)

Demo: Export to Word

(02:57)

Summary

(00:26)
---