---
Office 365, Part 5: SharePoint and Office Online
---
---
Watch trailer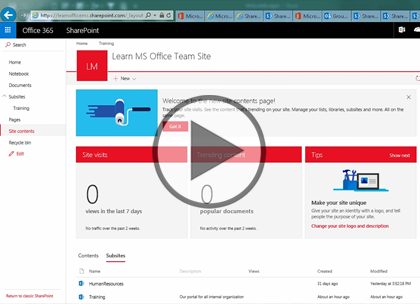 ---
Course at a glance
Included in these subscriptions:
Creative Design Power Pack
Power Pack Plus
---
| | | |
| --- | --- | --- |
| | Release date | 3/6/2017 |
| | Level | Intermediate |
| | Runtime | 1h 58m |
| | Published eBooks | N/A |
| | Hands-on labs | N/A |
| | Sample files | N/A |
| | Exams | Included |
---
---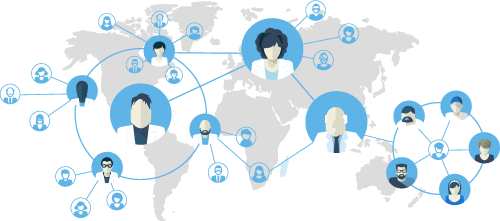 Enterprise Solutions
Need reporting, custom learning tracks, or SCORM? Learn More
---
---
Course description
Explore the SharePoint Online area of Office 365. Discover how to access followed sites, see recommended sites, and create and search for sites, then dive into the collaboration capabilities of SharePoint team sites. In addition to learning how to access, create, share and work directly on documents in the SharePoint document libraries, we'll sync a SharePoint document library to our local device and see how that is similar and different from syncing a OneDrive for Business library on the same device. Lastly, take a look at how to work directly with Office Online and the Microsoft Office Desktop Clients we already use.
Prerequisites
This course assumes that students are familiar with the basic use of Windows and common use of the mouse and keyboard. No prior experience with Office 365 is assumed.
Meet the expert
Leeanne McManus is a nationally renowned trainer, facilitator, and productivity expert who has conducted thousands of sessions over the past decade. While widely recognized for helping end-users, departments, and organizations learn how to maximize their software products, most notably Office 365 and Adobe, Leeanne also facilitates sessions to enhance productivity and performance through soft skills development. Her professional background includes Human Resources, Operations, and Talent and Development.
---
Course outline
---
---
SharePoint Online
Overview of SharePoint Online (15:46)
Introduction

(00:26)

What Is SharePoint Online?

(07:05)

Demo: SharePoint Online

(04:58)

Demo: Group Site

(02:50)

Summary

(00:25)
Accessing SharePoint Online (22:02)
Introduction

(00:14)

SharePoint in Office 365

(03:10)

Demo: Create Team Site

(05:22)

Demo: Following and Searching

(05:12)

Demo: More Searching

(01:55)

Demo: Add Apps

(05:42)

Summary

(00:23)
Sharing and Collaborating (39:13)
Introduction

(00:29)

Sharing and Collaborating

(00:56)

Demo: SharePoint Site

(05:49)

Demo: Documents

(05:22)

Demo: Editing Task List

(06:28)

Demo: Timeline

(05:51)

Demo: Calendar

(02:24)

Demo: Document Library

(05:29)

Demo: Collaboration

(05:57)

Summary

(00:24)
Syncing SharePoint (14:05)
Introduction

(00:20)

Syncing SharePoint Library

(02:05)

Demo: Setting up Sync

(05:50)

Demo: Using Sync

(05:17)

Summary

(00:30)
Working with Office (27:20)
Introduction

(00:31)

Working with Office Online

(04:42)

Both Offer

(01:38)

Demo: Word Client and Online

(05:28)

Demo: Collaboration

(09:56)

Demo: Create Files and Folders

(04:22)

Summary

(00:41)
---