---
Windows Server 2012 Admin, Part 5: Managing Remote Access
---
---
Watch trailer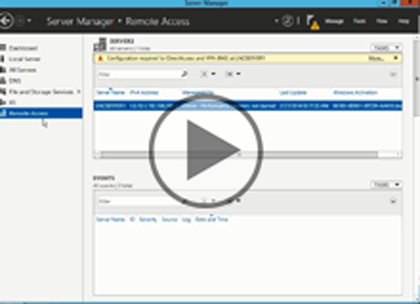 ---
Course at a glance
Included in these subscriptions:
Dev & IT Pro Video
Dev & IT Pro Power Pack
Power Pack Plus
---
Release date
4/25/2014
Level
Beginner
Runtime
3h 1m
Platform

Major browsers on Windows

Major browsers on Mac OSX

Mobile Devices

Closed captioning
N/A
Transcript
N/A
eBooks / courseware
N/A
Hands-on labs
N/A
Sample code
N/A
Exams
Included
---
---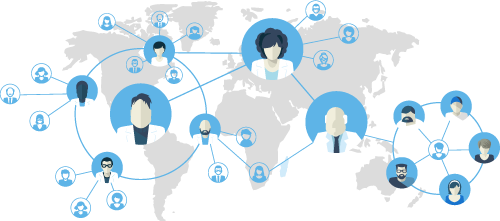 Enterprise Solutions
Need reporting, custom learning tracks, or SCORM? Learn More
---
---
Course description
Remote access is a broad topic coercing many technologies and services. In order to implement a successful remote access solution, you must understand the purpose of all the component parts, how they interact, the solutions they provide and how to install and configure them. Through this session we will go through implementing remote access, installing a network policy server and implementing network access protection.
Prerequisites
The course assumes that students have some familiarity with Microsoft Windows, Microsoft Windows Server, basic networking concepts, and a fundamental understanding of computer hardware.
Prepare for certification
This course will help you prepare for:
70-411 Windows Server 2012: Administration

This course will help you earn:
MCSE 2012: Desktop Infrastructure
MCSA: Windows Server 2012
MCSE 2012: Server Infrastructure

Meet the expert

Chris Bell, MCITP, is an 18 year SQL Server veteran for both business intelligence and application development providing solutions for businesses, organizations and individuals. He is the founder and CEO of WaterOx Consulting, Inc., a provider of remote SQL Server consulting and services. Chris is also the founder and current President of the Washington DC chapter of PASS, and a member of the Board of Directors for CPCUG. Chris also frequently attends and presents at PASS events around the country, sharing his passion for all things SQL Server. In 2012, Chris was one of 5 finalists in the world for Red Gate's Exceptional DBA Award.
---
Course outline
---
---
Remote Access
ImplementRemoteAccess (05:36)
Introduction

(00:28)

Remote Access

(00:18)

NPS & NAP

(00:51)

RAS & NPS

(01:04)

Demo: RAS Install

(02:42)

Summary

(00:12)
RemoteAccessConnection (39:16)
Introduction

(00:12)

Remote Access Connection Types

(00:15)

VPN

(00:40)

Dial-up

(00:39)

Direct Access

(01:08)

Authentication & Authorization

(01:08)

Authentication Protocols

(00:39)

PAP, CHAP, & MS-CHAP V2

(01:18)

EAP

(01:30)

Other Options

(00:26)

DHCP & Remote Access

(01:30)

New Remote Access Wizards

(01:11)

Network Policy

(00:28)

VPN Connections

(00:34)

Encapsulation

(00:24)

Authentication

(00:36)

Encryption

(00:45)

Integrity

(00:21)

Types of VPN Connections

(00:11)

Remote Access VPN

(00:56)

Site-to-Site VPN

(01:07)

Site-to-Site & IP Addressing

(01:04)

VPN Encryption & Performance

(00:42)

VPN Tunneling Protocols

(00:28)

PPTP

(00:36)

L2TP

(01:03)

SSTP

(00:38)

IKE v2

(00:37)

VPN Reconnect

(00:35)

VPN Infrastructure

(01:55)

Additional Configuration Tasks

(01:02)

Demo: VPN Server Remote Access

(03:55)

Demo: VPN Server Configure

(04:57)

Demo: VPN Server Test

(05:11)

Summary

(00:19)
Dial Up Remote Access (23:14)
Introduction

(00:29)

Client Dial-Up Remote Access

(00:36)

Server to Server Demand Dial

(00:51)

Remote Access Client Settings

(00:41)

Connection Manager

(00:58)

CMAK Features

(00:42)

CMAK Distribution

(00:24)

NAT

(01:04)

VPNs & NAT

(01:43)

Routing

(00:45)

Win Firewall & Remote Access

(01:03)

Remote Access Troubleshooting

(01:20)

Common Error Msgs

(03:24)

L2TP/IPSEC Auth. Issues

(00:29)

EAP-TLS Auth. Issues

(00:33)

Demo: Add NAT & Routing

(02:16)

Demo: Configure NAT & Routing

(02:56)

Demo: Test NAT & Routing

(02:40)

Summary

(00:10)
Access and Policy
DirectAccess (39:40)
Introduction

(00:25)

Direct Access

(01:27)

Features

(00:59)

Improvements

(01:24)

Components

(00:42)

DirectAccess Server

(01:02)

DirectAccess Client

(01:15)

NRPT

(01:26)

NRPT Exceptions

(00:38)

NRPT Exemption

(01:19)

NRPT Configuration

(01:00)

DNS Server

(00:34)

Configure DNS for DirectAccess

(01:39)

NLS

(00:56)

CRL

(00:25)

Internal Resources

(01:03)

Active Directory

(00:25)

Group Policy

(00:45)

PKI

(01:17)

NAP Server

(00:14)

Windows Firewall & DA

(00:59)

Forced Tunneling

(00:52)

Split Tunneling

(00:43)

DA Server Requirements

(00:28)

DA Client Requirements

(00:20)

Infrastructure Requirements

(01:21)

Offline Domain Join

(00:33)

DirectAccess: External Clients

(03:11)

DirectAccess: Internal Clients

(02:28)

Summary

(00:35)

DirectAccess Troubleshooting

(02:53)

Demo: Configure DA - Wizard

(01:45)

Demo: Configure DA - Setup

(03:55)

Summary

(00:26)
Install Network Policy Server (19:16)
Introduction

(00:18)

NPS

(00:00)

RADIUS

(00:41)

RADIUS Server, Client, & Proxy

(01:11)

Remote Access Client

(00:35)

Ports for RADIUS & Logging

(00:26)

Post Installation Tasks

(00:21)

NPS ADirectory Registration

(00:29)

RADIUS Client Configuration

(00:29)

NPS Template

(00:24)

Connection Request Policy

(00:57)

Network Policy Creation

(00:57)

NAP Configuration

(00:20)

NAP Configuration Export

(00:36)

Demo: NPS & RADIUS client

(04:24)

Demo: NPS VPN service

(04:25)

Demo: NPS Test

(02:21)

Summary

(00:14)
Implement Network Access Protection (08:22)
Introduction

(00:16)

NAP

(02:25)

NAP Components

(01:16)

NAP Components (Cont)

(01:09)

NAP Installation

(00:17)

NAP Management

(00:16)

NAP Implementation Process

(00:37)

NAP Implementation (Cont)

(00:29)

Demo: Install NAP HPS

(01:13)

Summary

(00:19)
NAP and Network Policies
NAP Enforcement (11:43)
Introduction

(00:22)

NAP Enforcement Methods

(01:01)

NAP Enforcement Methods (Cont)

(00:45)

RADIUS Server Grp Config

(00:20)

NAP Enforcement Points

(00:41)

NAP Enforcement Configuration

(00:12)

NAP Enforcement Config (Cont)

(01:24)

Demo: Config NAP Enforcement

(02:42)

Demo: NAP Enforcement (Cont)

(03:49)

Summary

(00:22)
Network Policies (34:41)
Introduction

(00:30)

Network Policy Properties

(00:13)

Overview

(02:01)

Conditions

(00:52)

Condition Types

(00:16)

Groups

(00:35)

HCAP

(00:43)

Day and Time

(00:09)

Network Access Protection

(01:45)

Connection Properties

(01:07)

RADIUS Client Properties

(00:43)

Gateway

(00:54)

Constraints

(01:23)

Constraint Types

(00:57)

Settings

(00:52)

Health Policy

(00:49)

Network Policy Processing

(01:12)

Certification Authentication

(00:44)

Server Certificate Reqs

(00:31)

Client Certificate Reqs

(00:20)

Certificate Templates

(01:31)

NAP Enforcement Mode

(00:44)

NAP Capable Clients

(01:16)

Remediation Servers

(01:44)

Demo: NAP Health Policy

(03:55)

Demo: NAP Network Policy

(03:39)

Demo: Configure NAP

(04:34)

Summary

(00:29)
---