---
jQuery, Part 5: Debugging and Graphics
---
---
Watch trailer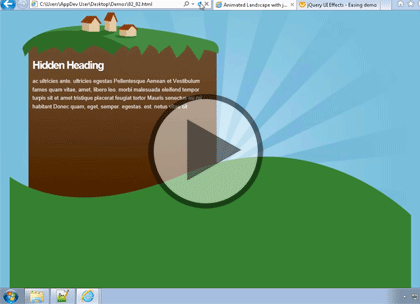 ---
Course at a glance
Included in these subscriptions:
Dev & IT Pro Video
Dev & IT Pro Power Pack
Power Pack Plus
---
Release date
10/22/2012
Level
Intermediate
Runtime
1h 34m
Platform

Major browsers on Windows

Major browsers on Mac OSX

Mobile Devices

Closed captioning
N/A
Transcript
N/A
eBooks / courseware
N/A
Hands-on labs
N/A
Sample code
Included
Exams
Included
---
---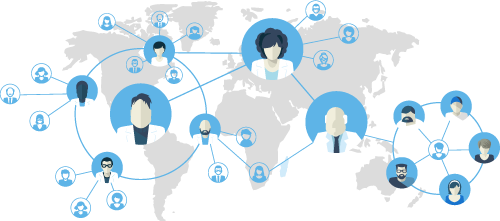 Enterprise Solutions
Need reporting, custom learning tracks, or SCORM? Learn More
---
---
Course description
The jQuery language has grown in its ability to enhance web pages. This course "jQuery: Debugging and Graphics", will start you with how to debug jQuery in a web browser by understanding/troubleshooting different jQuery versions, checking to see if a features is supported by a browser and then customizing HTML by browser type. Then the course will discuss some animation fundamentals, creating custom animations, drawing on the canvas and ending with animating on the canvas.
Prerequisites
This course assumes that the users have a basic knowledge of web programming with jQuery, JavaScript, HTML, and CSS. Knowledge of Java or other web-based programming languages is not required.
Prepare for certification
This course will help you prepare for:
70-480 Programming in HTML5 with JavaScript and CSS3

This course will help you earn:
MCSD: SharePoint Applications
MCSD: Web Applications

Meet the expert

Dustin Tauer is an Adobe Certified Master Instructor and has a degree in Informational Systems and Technology. He currently teaches development classes focusing on technologies like HTML, CSS, JavaScript, Flash and Flex. When he's not training, he's working on development projects ranging from mobile applications, to rich internet applications, to instructor-led curriculum.
---
Course outline
---
---
Debugging and Graphics
Debugging with jQuery (20:51)
Introduction

(00:32)

Debugging jQuery

(02:44)

Debugging jQuery: Breakpoints

(00:44)

Demo: jQuery Debugging

(03:21)

Demo: Web developer console

(03:18)

Demo: Output statements

(03:30)

Demo: Checking variable passes

(02:23)

Demo: Setting breakpoints

(02:23)

Demo: Stepping into/over code

(01:32)

Summary

(00:18)
Checking Feature Support (13:42)
Introduction

(00:41)

Browser feature support

(02:12)

Handling errors accordingly

(01:06)

Demo: Checking for support

(04:38)

Demo: Browser specific content

(02:50)

Demo: Checking feature support

(01:57)

Summary

(00:14)
Using Built in Effects (16:09)
Introduction

(00:26)

jQuery effects

(02:57)

Demo: Effects

(02:42)

Demo: Duration

(01:28)

Demo: Movement

(01:46)

Demo: Toggle

(01:35)

Demo: Toggle CSS

(03:02)

Demo: Callback

(01:52)

Summary

(00:18)
Animation
Custom Animations (16:28)
Introduction

(00:33)

Custom Animations

(02:02)

Custom Animations: 3rd party

(01:07)

Easing

(02:49)

Demo: Fade out/Delay

(02:44)

Demo: Triggering events

(00:51)

Demo: jQuery queue method

(03:55)

Demo: Queuing multiple events

(02:07)

Summary

(00:17)
jQuery Canvas (16:09)
Introduction

(00:34)

jQuery Canvas

(01:35)

Demo: Creating a canvas

(00:42)

Demo: Drawing on the canvas

(02:04)

Demo: Multiple drawing calls

(04:20)

Demo: Drawing patterns

(03:06)

Demo: Using drawing patterns

(01:34)

Demo: Troubleshooting drawing

(01:50)

Summary

(00:20)
Animating the Canvas (11:24)
Introduction

(00:34)

Animating on the Canvas

(00:54)

Utilizing layers

(01:33)

Colors in the jQuery Canvas

(00:32)

Demo: Creating a layer

(01:45)

Demo: Animating a layer

(02:11)

Demo: Chaining animation

(03:36)

Summary

(00:17)
---